Apply now for your VIP seat at this unique one-time event. First Time in the USA
Tickets are extremely limited.  
Our room only has space for 100 attendees, and our staff and team members work with the audience in small groups so you get lots of personal attention.  Tickets at the door will be sold at retail price (if available).  You must pre-register to secure your seat. The prices and any VIP or discount coupons on this page are good only until the first 100 tickets are reserved or March 21st, whichever comes first.
The bonus items are for our new students only and are limited to the first 100 enrollments. They will be removed without notice, so do not procrastinate in calling our local PRISM Authorized Trainers or pressing the RSVP button on this website to reserve your seats. .
See you in April in sunny San Diego!
Founder and President, P.R.I.S.M. Life Design and Handwriting University.com. Author of the Success Secrets of the Rich & Happy and the best selling book The Magic Question.
Sold Out
0 OUT OF 100 SEATS REMAINING
Experience The Most Powerful Methods To Break Through Personal Limitations to Unleash Your Most Powerful Version of Yourself...
And Finally Design the Life You Deserve
From the desk of Bart Baggett | Los Angeles, California
What if you could design your life again from the ground up for massive success?
You will realize that after you break through inner limitations and limited beliefs using these exclusive "life design" mental processes you'll be ready to:
Set high goals and achieve them with half of the effort than before.
Make more money than you currently feel comfortable making.
Be happier in every moment than you ever were before.
AND expand your "comfort zone" so you really can live magnetically, attracting success.
You will begin to make decisions differently than before. Let go of fear and embrace confidence in your future.
When you unleash the inner Unstoppable YOU, you can go after your BIGGEST GOALS with certainty and focus. Within days and weeks, you will begin to achieve more with a sense of ease and flow than you could have previously imagined was possible.
Even if you don't believe it now…life can be easy. Life can be abundant.
We will help you "reprogram" you unconscious mind to ADOPT a new outlook on life. When you change the "frame" of your perceptions, your emotions change instantly.
This is your opportunity to discover the secrets of designing your life with intention and purpose.
Life Design Live
April 28-29 2018, San Diego, CA
Personal Transformation and Life Design Live Event
What you'll experience at this 2-day, hands-on and highly-personal event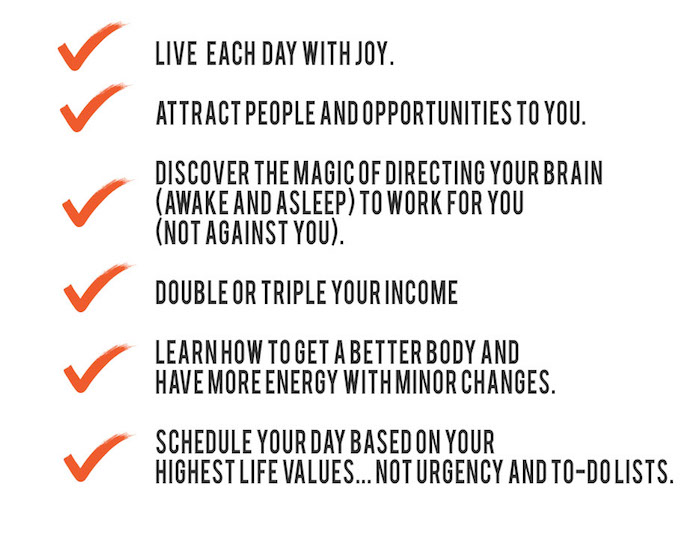 Accomplish Your Biggest Business Goals And Dreams
Discover a breakthrough system for attaining any goal faster and with more ease.
Earn More Money And Think Like An Entrepreneur
Learn what most successful entrepreneurs know about earning more money and building wealth... you can model their thinking processes.
Discover Your Unconcious Communication Style
Learn to set goals and motivate yourself based on your thinking and communication style to 3x the effectiveness of attracting what you want in life.
Eliminate Fears And Anxieties Holding You Back
Learn powerful breakthroughs for mastering your internal mental patterns.
Discover How to Stay Motivated 99% of the Time
Once you learn this process, you can say goodbye to overwhelming procrastination.
Transform Your Money Blocks & Double Your Income
The "double your income" meditation will unblock your mind, and you will see the results within weeks.
Feel Unstoppable Confidence
The mental process of feeling confident will be taught so you can experience the feeling on Sunday in a way you have never felt before.
Discover Your Hidden Talents
Bring your handwriting so our experts can help you gain insight into your hidden potential.
Get Red Carpet Photos With Our Celebrity Faculty
Bring your phone and post Facebook photos or take photos to hang on your wall. Hollywood-style red carpet will be set up on Saturday.
And you'll learn this in a playful, uplifting environment with other ambitious & entergetic individuals who will
support you in your journey.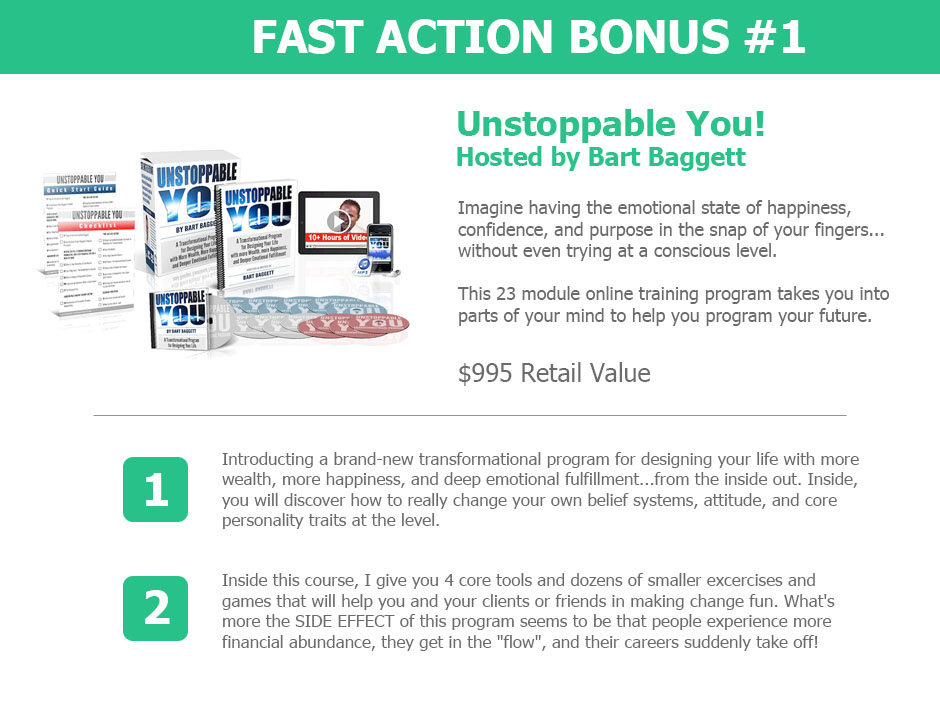 They Never Taught You Success Secrets In School.
It is not enough to have the good grades.
It is not enough to have the a good reputation.
It is not enough to have read the right books.
What you need is a full "success strategy" that brings together all of the elements of how to attain happines and emotional success. And you need to convince your unconscious mind to get out of your way and accept the elevation in prosperity.
This is the missing key that stops most people from succeeding in all key areas of your life.
"This seminar has given me the knowledge and courage to change the self-deciet trait (in my handwriting and face some tough choices in my own life). I look forward to years to come as a brand new me. Everyone should attend a Bart Baggett live event and get ready for changes in your life."
Avonti Chavez
"I realized that handwriting analysis is more deeper than just analyzing someone's handwriting; it's about changing the life of others to a better and more fulfilling direction in life."
Abdulaziz Alsahafi
"There was so much kindness from the speakers and the attendees in the room. This event was just exactly what I needed in my life. I'm inspired and feel more confident than ever before. No matter what... get yourself to this live event. My life will never be the same."
Paula Faccio
If you are honest, you know there is a gap between what you are truly capable of and what you are actually accomplishing.
No matter what you have accomplished so far, there is always more.
We can always get better and for some... get that first big "win".
What holds us back from success is our own internal "garbage" -- all the beliefs, self-imposed limitations, fears, scarcity, rules, other's criticisms, and of course those deep emotional reactions…
And then there are bad mental habits like procrastination, perfectionism, anger, comparisons, allowing others to waste your time.
That is what has been holding us back.
It is really never a lack of time or money. And it is not your spouse or your family to blame. It's not your parents or that "tragic event" that happend to you years ago. Nothing OUTSIDE of you can be the true cause of your current mindset. You are at cause for your current state of being; you are not at fault for the things that happened to you. But, you can change how you react to things.
WE create the roadblocks in the way of earning more, impacting more, or BEING more of who we want to be.
Life Design Live is here to help you break through those self-imposed roadblocks. Get crystal clear on what you really want so you can experience more joy, freedom, wealth, happiness, love, and fulfillment in your life. Finally end the struggle between doing what you love and making money. End the struggle of scaling your business from small to big. Get more time and happiness from your career.
When was the last time your possibilities gave you goosebumps?!
"I am beyond thrilled to bring the new Life Design Live event. This event is a combination of over 30 years of studying, teaching, and my own journey. You will leave with a level of clarity and sense of purpose you never even dreamed was possible."
Bart Baggett
Creator of the PRISM Life Design System
RSVP today so your seat is secured.
Want to RSVP right now? Choose One or More
Tickets using the correct Add to Cart Button Below.
I want to purchase one ticket for the discounted price of
$400 and additional "Bring a Friend" tickets at $100 each.
I want to purchase one ticket for the discounted price of
$400 and no additional tickets.
Tickets for Clients of Handwriting University or subscribers to Bart Baggett's newsletter:
Call Brianna Fish or Doc Grayson at this phone number:

+1(310)-684-3489 Ext. 2
1-310-779-7224 (text friendly)

http://handwritinguniversity.com/members/help-menu/about/


Reserve your seat soon. The "Bring a Friend" offer and early bird discount expires soon.
EVENT DETAILS
Event
Life Design Live: 2 Days of Breaking Through Limitations and Designing a life of meaning and success.
Dates
Friday April 28-29th, 2018
Registration begins Saturday morning at 7:30 am, and we will end on Sunday at 6pm.
There will be 90 minute for lunch both days and local restuarants are walkable in the Old Town area.
Want to talk to our event staff ? Call one our team now at Bart Baggett's Los Angeles Office at 1-310-684-3489 Ext. 2
Location
20 minutes north of downtown San Diego, CA, USA Old Town
Airport
San Diego International Airport
Hotel
Best Western Haceinda Hotel Old Town
4041 Harney St, San Diego, CA 92110
Hotel phone if you want to book a room at the event hotel: (619) 298-4707 Do not call this number for tickets... this is front desk of the hotel.
FAQs
Below are a few of the typical questions we get asked, along with our answers.
1. What if I can't attend the event in person? Will there be a livestream or recording?

We will not be providing a livestream or making the videos available later – there's just no substitute for the transformative power of doing this work together and IN-PERSON with an energetic and focused group of like-minded people.

2. How will attending this event help my life?

This event is about you getting clear on what is holding you back from accomplishing what you really desire in your business (and life)...

And providing you with experiential breakthroughs and systems needed for you to make a big leap forward to the next level of finacial success and inner fulfillment.

3. What if I am already overwhelmed with information overload?

Is Life Design Live going to eliminate it or make it worse?

An excellent question.

You may be already overwhelmed by the wealth of free and paid information on the web on how to make your life better or even analyze handwriting. And yet, your life still isn't where you want it to be.

Our event is actually designed to help you identify what's stopping you from the inside, out. This is not a seminar where guests will take 100 pages of notes. We have certification courses for people who love "data"... This is an experience.

The net result: you'll move forward in 2017 with greater clarity and tools to accomplish the really big goals that you might have been unable to achieve thus far.

4. Are accommodations included in the package?

No, but hotels are not expensive as we have negotiated a great rate at the hotel. If are travelling alone, contact our office for a possible roommate situation to help cut costs.

5. When and where is the event?

Location: About 20 minutes northwest of downtown San Diego, CA (Old Town)

Dates: April 28-29th , 2018
Old Town Hacienda
Best Western Haceinda Hotel Old Town 4041 Harney St, San Diego, CA 92110 Hotel phone if you want to book a room at the event hotel: (619) 298-4707 Do not call this number for tickets... this is front desk of the hotel.

Be sure to reserve your space today because we have a limited amount of space for Life Design Live and news of the event is being delivered to our mailing list of over 50,000 people .

We expect the event to be sold out weeks in advance, so if you're thinking about it – please book your spot now.

6. What if I have to cancel my trip?

If circumstances arise that make it impossible for you to attend the live event, you can receive a credit for the original amount of your ticket purchase toward any future live events or one of our wonderful online training programs. Another option is that you can transfer your ticket to allow a friend or colleague to attend instead of you.

Because of the massive expense of hosting this event and every ticket purchased prevents another one from joining once we are sold out , there is not a refund option for tickets. All Sales are final and transferrable.

7. How many people do you expect to attend?

We're expecting about 100 people, plus our staff. Attendees will be from all over the world and of course the United States -- so you'll be spending time with a lot of highly-motivated, like-minded business people who are ready to improve their own life and support you.

8. I'm just starting out with personal development and totally new to graphology -- is Life Design Live right for me?

You actually have an advantage! You'll be learning proven mental processes and techniques for changing your mindset, beliefs, and removing fears. Since you can't learn handwriting analysis in a weekend, we will only teach the critical pieces related to transformation. No handwriting experience is required and this should not be considered a handwriting seminar. While it will be included, the focus is on the many new tools inside the PRISM Life Design Curriculum.

If you apply what you learn at Life Design Live event, your business and life will forever have a powerful shift.


"This has been a confirmation of who I've felt I am today. I realize that those people that lash out or put me down have their own issues...I'm no longer allowing other people to affect my happiness. I can stand on my own two feet and live my life my way. This event was extraordinary. Be there."
Kat Hammond
"Just Amazing. Everyone should attend this event."
Brian Forrest
"Bart Baggett is as good as Tony Robbins or Richard Bandler when it comes to change. In fact, Bart simplifies hard-to-grasp concepts in a way the other teachers or NLP and mind sciences don't do. "
Sam Botta
You should know that you're taking absolutely no risk because your investment is backed up by our personal 100% satisfaction guarantee
READ MORE [+]
You should know that you're taking absolutely no risk because your investment is backed by our personal 100% satisfaction guarantee.
If unexpected circumstances make it impossible for you to join us at Live event:
You may receive a credit for your ticket purchase against any of our future live events or one of our wonderful training programs.
Another option is that you can transfer your ticket, to allow a friend or colleague to attend in your place.
So any way you look at it – there is zero risk for you and your satisfaction is guaranteed.
Some of the big ideas of Life Design:
(1) Your beliefs create your reality.
(2) Your internal dialogue is the programming language of your brain. You will learn how to master this inner voice.
(3) Fear is the enemy of progress and happiness. We will show you how to identify and eliminate the 8 major fears most people struggle with.
Your bank accout can only grow as fast as your mindset.
At this event you'll CREATE and EXPERIENCE incredible shifts within that will allow you to design the life you want.
Be Ready to Get What You Ask For.
One more thing – change can be fun or change can be hard. Come to this event and it will be fun and easy.
You need a catalyst. And we've created this event to spark brand new ways to be, think, act, focus, and accomplish your dreams.
Never again will you be stopped by not knowing "how" to create huge success. Never again will you feel like you don't deserve wealth and not know how to move away from struggle.
Are You Ready To Take Control Of Your Future and Design Your Future With Intention?
What you learn and experience at Life Design will show you how to powerfully create a thriving life beyond your current imagination, "from the inside out."
Your personal confidence will explode beyond self-limiting expectations of the past. You'll leave as a person who knows in your mind, heart, and body how to create your own present, future, and re-frame your past with a smile.
If you are ready to take control of your business, love-life, health, and career... and step into your power as someone who can create an inspiring vision of a better future...then join us!
To Designing 'The Remarkable LIfe'
Bart Baggett, Founder of P.R.I.S.M. Life Design & Handwriting University International
Any Questions? Email us at support@empressepublishing.com
Want to RSVP right now using a credit card or paypal?
I want to purchase one ticket for the discounted price of $400 and additional "Bring a Friend" tickets at $100 each.
I want to purchase one ticket for the discounted price of $400 and no additional tickets.